Created on Thursday, 29 June 2006 05:50
Last Updated on Saturday, 31 March 2012 14:12
Written by John Bunyan
Next Wednesday (5th July), Phil Cheek invites you to partake in the "Tour de Taxal". This is an Orienteering event (easy) with an additional mental challenge (also easy). Solo or pairs. Bring a pen or pencil, map supplied. Start between 6 & 7 pm to suit yourself & to allow any footie fans to get away in time to watch Portugal v Brazil!!!! There may even be a prize...

Venue: Pym Chair car park

Created on Tuesday, 20 June 2006 11:14
Last Updated on Saturday, 31 March 2012 14:12
Written by John Bunyan
It's great to see a number of the regular "roadies" out on the hills, but after an embarrassing incident at Boar's Head last week, can all club runners please be aware of some of the rules associated with fell races. The most important being that if you retire, you must report to the organisers that you are doing so. Failure to do so may result in searches being instigated as all registered runners must be accounted for.
The other rule that people may fall foul of is carrying safety kit - this is compulsory on category A medium and long races, and at the organiser's discretion at others. Bottom line is always be prepared by having waterproof top and bottoms, compass, whistle and map handy.
Full rules can be found on the FRA website - safety rules and rules for competition .

Created on Sunday, 18 June 2006 12:05
Last Updated on Saturday, 31 March 2012 14:12
Written by John Bunyan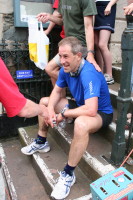 Mike Nelson became the latest member of Macclesfield Harriers to join the "Bob Graham Club". He completed his round on Saturday afternoon in a time of 21 hours and 53 minutes. He still looked remarkably fresh in the pub at 10pm!
Photos in gallery and more details to follow...
Created on Tuesday, 20 June 2006 14:10
Last Updated on Saturday, 31 March 2012 14:12
Written by John Bunyan
Macclesfield Harriers invite you to take part in the FOREST FIVE CHARITY RUN on the picturesque tracks of Macclesfield forest. 7.30pm Wednesday July 19th 2006.
Entries on the night only
Parking and Registration from 6.00pm at Macclesfield Forest Visitors Centre, Trentabank, nr. Langley (SJ 961712)
Under no circumstances must cars be parked anywhere near the Leathers Smithy Pub. Race parking is 600 metres beyond.
Entry is by donation to the Ronald MacDonald House at Alder Hey which supports families of critically ill children
Sorry, no prizes, we want as much as possible to go to our charity
The route is ~5.5 miles mostly on good quality forest tracks but there are some stepped boardwalks to negotiate
At one point there is a route choice; either stay on the dry firm track or to take a slightly shorter line across slippery grass (this might govern your selection of shoes)
Arrive in good time; the start is 10 minutes walk from registration. Drinks and food may be purchased before, during and after the event from 'Nice Nosh', the mobile caterer at the Visitors Centre.

Details as Word Document
Created on Sunday, 18 June 2006 12:17
Last Updated on Saturday, 31 March 2012 14:12
Written by John Bunyan
Andy Lamont continues his good run of results...
Macc results:
| | | | |
| --- | --- | --- | --- |
| 4 | ANDREW LAMONT | | 46.26 |
| 15 | TIM TAYLOR | V40 | 50.49 |
| 17 | TIM STOCK | V40 | 51.21 |
| 20 | BARRY BLYTH | V50 | 51.44 |
| 23 | WARREN MASON | V40 | 52.19 |
| 30 | JULIAN BROWN | V40 | 53.17 |
| 35 | MARK McDERMOTT | V40 | 54.08 |
| 37 | EWAN DOUGLAS | V40 | 54.17 |
| 41 | PAUL FINN | V40 | 54.48 |
| 47 | DAVID KILPATRICK | V40 | 55.46 |
| 57 | ANDREW GRAY | V40 | 56.42 |
| 64 | BRIAN MACFADYEN | V40 | 58.12 |
| 73 | CRAIG HARWOOD | V40 | 59.05 |
| 90 | PHIL CHEEK | V50 | 63.09 |
| 137 | JUSTIN GUTMAN | V50 | 74.44 |