Founded 1897 – reformed 1945 – affiliated to England Athletics (registration number 2658261), Cheshire County Athletics Association and Northern Athletics
Created on Thursday, 12 February 2015 17:30
Last Updated on Thursday, 25 May 2017 16:27
Written by Julian Brown
The 2017 race will be on Saturday June 3rd.
Entries are now closed for the senior race, we filled in only 4 days. Thanks everyone for your support.
An entry list is here http://www.mh.k313.com/mh/fell/2017WincleTroutRunEntryList.pdf
Details of the race are here http://www.mh.k313.com/mh/fell/troutracedetails2017.pdf
And a course map is here: the route is run clockwise (downhill start / uphill finish!)
http://www.mh.k313.com/mh/fell/wincletroutracemap2017.pdf
Entries for the junior race are available on bookitzone.
https://bookitzone.com/julian_brown/nQ2FFX
More details of this year's race are here....
http://fellrunner.org.uk/races.php?id=4972
and some details of previous years' races - (including 2014 which was the last time the race was held from this venue) - are below.
Note the venue for this year's race is different (it's the same as for the 2014 race - at the top of the hill !) so the route will also be different (and probably harder !) than last year.
And we have a new race organiser ! Harriers' Rob Gittins (number 110!) has taken on the job this year, many thanks Rob !
If you want to contact Rob there's a link below, or email This email address is being protected from spambots. You need JavaScript enabled to view it.
http://www.macclesfield-harriers.co.uk/index.php/contact-us-mainmenu-3/club-officials/4-rob-gittins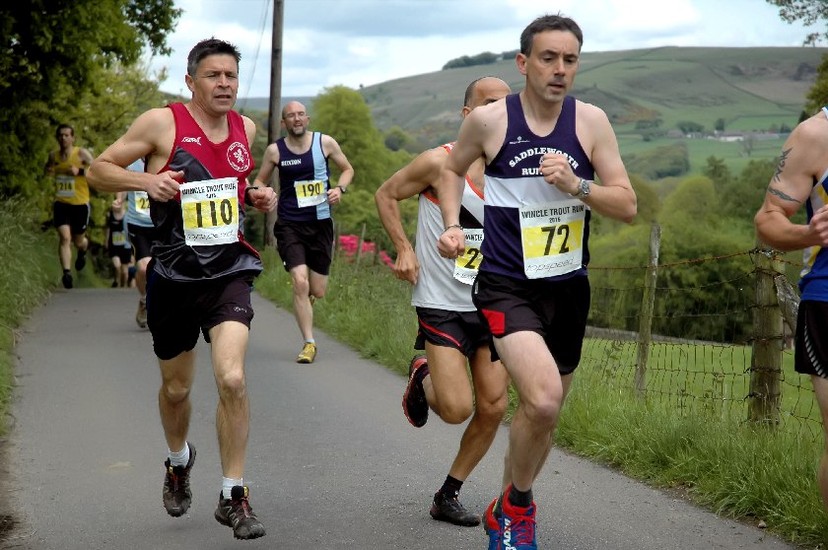 ____________________________________________________________________________

*** UPDATED 04/06 ***
MANY THANKS to everyone who came along today...
Runners, marshals, sweepers, all who helped at the start and finish, landowners, Raynet, Mountain Rescue, Bryan Dale for the photos, and of course everyone involved with the fete in any way, on the day when we lost the greatest sportsman of all time. I wonder what he would have made of us....
Apologies for changing the senior race course at the last minute, (which made the race a bit easier for the runners!) and hope it didn't spoil your enjoyment: particularly well done to the juniors, who had much the harder course, but they all finished in good spirits.
Weather turned out nice again !!! but hopefully not too hot for you, and we arranged a river literally feet from the finish for a post race dip. 
The provisional results are on the link below, as are Bryan's excellent photos: there are a few queries on the results,so if you're not listed or reckon I've got it wrong please email me: and if you've any comments on the race or the fete, good or bad, don't hesitate to let me know that as well !!
Mow Cop's Jack Ross won the race by a considerable margin from 'evergreen' Rick Haughton from Buxton, our first over 50, with Jason Bennett, our first Over 40, in third. In the Ladies's race, Vicky Wright from Hyde was first back, followed by Angela Markley and Angela Stonell, both from Macclesfield. First local was Tim Lovatt in an excellent 14th place. 282 runners completed the course, well run everyone, and hope you all enjoyed your trouts!
And finally, the Bosley Fete and fell race is on a fortnight today, 18th June, they'd be very pleased to see you !!
Cheers Julian Brown, email julian.brown10 at hotmail.co.uk
http://www.macclesfield-harriers.co.uk/images/wincletroutresults2016.xls 
The Junior race will be open for entries on the day, so any 10-15 year olds (or indeed anyone older !) who fancy some mud, hill, and even a river crossing, we'd be pleased to see you !! A flyer is here....
http://www.macclesfield-harriers.co.uk/images/wincletroutjuniorrun2016.pdf
A trout run start list with race numbers is here.... 
http://www.macclesfield-harriers.co.uk/images/wincle trout run 2016 current entry list.xls
and some race details are here.
http://www.macclesfield-harriers.co.uk/images/troutracedetails2016.doc
A map of the Senior Race
http://www.macclesfield-harriers.co.uk/images/wincleseniorroute2016.pdf
and the Junior race
http://www.macclesfield-harriers.co.uk/images/winclejuniorroute2016.pdf
Link to junior race entries and wait list for the senior race...
https://bookitzone.com/julian_brown/Xl2FFX
And for those who have kindly agreed to marshal, a list of marshalling duties,
http://www.macclesfield-harriers.co.uk/images/wincle%20trout%202016%20marshall%20plan.xls
and a sheet for each job: one (or more !) of the sheets should have your name on !!
http://www.macclesfield-harriers.co.uk/images/wincle%20trout%20race%202016%20marshalling%20duties.doc
________________________________________________________________________________
The map and details below are for LAST YEAR'S race.... the fete venue is different this year (at the bottom of the hill next to the river / trout farm / brewery) so the course will be adjusted accordingly, I'll produce a map at some point, but 80%+ will be the same.
Any queries, let me know, cheers Julian
_________________________________________________________________
(For 2015)
We still have places for the 3k junior / Fun Run online here https://bookitzone.com/julian_brown/Di2FFX
Race details are here ... http://macclesfield-harriers.co.uk/images/troutracedetails2015.doc
and a course map (of sorts...) is here ... 
http://macclesfield-harriers.co.uk/images/wincle%20trout%20race%20mellor%20knowl%20course.pdf
___________________________________________________________________________
 Wincle Trout Run 2014
Welcome to this year's race !
Your name, number, age group and club should be as per the list attached.
http://www.macclesfield-harriers.co.uk/images/wincle%20trout%20race%20entries%202014.pdf
If you're a runner should have received another Email with your number included in a pdf document. Please bring this with you to registration on the day to receive your race number, though if you forget it don't worry, we'll have a list displayed (though you might have to pay £1 to get into the fete)
We issue numbers on the day so that we know who has set off.
Location :-Â This year's run is from Burnt House Farm, Wincle.
http://www.bing.com/maps/#Y3A9NTEuNjQxODY0fi0zLjQwNjU2MyZsdmw9MTQmc3R5PXMmZW89MCZxPXdpbmNsZQ==
Please car share if you can !!
There will be signs directing you from the A54 road, or if coming from another direction, follow the signs to Wincle! Note the fete has three venues which rotate annually, so if you came last year, the location is different, but not that different (about a mile away). Do allow plenty of time to get here as the roads are narrow and can be very congested on the day.
Parking :- Please park (free!) in the large field as signposted. Please car share if you can – There should be enough space there, but there's none anywhere else, so please don't try to park on the local roads.
Entry :- to the fete is free for runners (show the details of your number) and £1 for others over 12. The official opening is 2pm, but you're welcome to arrive earlier if you want, (within reason !): we'll be there.
Come to the run registration desk and collect your race number - PLEASE ensure it's yours and not someone else's, and wear it, unfolded, on the front of your vest or shirt.
Numbers are generously sponsored by Topspeed Couriers. http://www.topspeedcouriers.co.uk/
Swaps :- If you're not running, but have given your entry to someone else, then PLEASE GET THEM TO LET US KNOW BEFORE THE DAY – they'll need to fill in an entry form, so that we can update the start list, as we need to know who has set off.
Toilets :-Â are available on site - but there is only very limited space for bag storage in the registration tent (and at your own risk).
Equipment :-Â There is no specific kit you need to take, but if the weather's bad please consider taking a windproof / waterproof coat with you, you'll be climbing to over 1000', and it can be a bit chilly to say the least if it's wet and / or windy. Note also that there's no water provided on the route other than at the finish (and the river crossing!), take some if you want some.
Course :- The course includes some steep and rough ground, you'll encounter rocks, stones, tree roots and so on, and a few slippery paths, so take care.
If it's dry, trail shoes are normally fine : in wet conditions fell shoes are recommended.
The route is marked and marshalled. Please obey marshals' instructions, they are there for your benefit.
Route :-Â The race will start from the fete field at 2:45 prompt. As mentioned earlier, the fete is at the top of the hill, which means the start is downhill, please take it easy.
There's a couple of short climbs before another descent to the river crossing. We will only use the river crossing if it's relatively low, but it'll still be wet and slippery, so take care. There will be a rope if you need it.
And on the other side, we hope to have Bryan Dale taking photos.
Up the field, onto the track and alongside the river on an undulating track to Gradbach.
Steel yourself for the climb through, then out of, the woods and on to Hanging Stone.
From there, it's downhill (slippery if wet) across fields and then down through the wood to Danebridge, for another river crossing, this time on a bridge.
From here, it's back to the start, which means mostly uphill, quite a bit of uphill actually, but keep at it and the finish will come eventually !
Cross the line (make sure we can see your number !) then collect your trout voucher, have a drink, retrieve your trout (courtesy of Danebridge Fisheries), at your leisure, and retire to the tea tent for tea and cake, or the beer tent for beer, and enjoy the rest of the fete.
Retirements :- The course will stay open until the last runner finishes, regardless of time. However, if you wish to drop out for any reason please stop at a marshalling point. WHATEVER YOU DO, REPORT TO THE FINISH !!! so that we know you're safe. There is a sweep runner behind the last runner. In addition St John's Ambulance will be available.
Photography :– Bryan Dale has agreed to take pictures of you all, these will be available for free viewing and download at www.racephotos.org.uk . Thank Bryan (and smile !) as you run past !
Results :– We'll have the results as soon as possible, but there are 350 + of you so it might take a little while. The Prize Presentation will be made as soon as we can. It is hoped the results can be displayed at the fete, but they will also be put on the Macclesfield Harriers website www.macclesfield-harriers.co.uk as soon as possible after the race.
Finally :– thanks a lot for coming - enjoy your race, please let us know if we can improve it – but mostly, thank you for raising funds for the Church and School, the reason we put the race on every year.
 Cheers, Julian Brown, and the organising team, Wincle Fete and Trout Run.
Forthcoming events you might be interested in……
Tuesday 17th June – Calton Fell Race (between Leek and Ashbourne)
Saturday 21st June – Bosley (between Leek and Macclesfield) Fete and fell race
Saturday 28th June – Whaley Bridge Waltz and Carnival
Sunday  29th June – Langley (Macclesfield) Fete and fell race
Full details of all these - and many more - at www.fellrunner.org.uk
The 2015 Wincle Trout race will be on Saturday May 30th (it's always held on the Saturday after the Spring Bank Holiday).