Created on Thursday, 25 May 2006 04:43
Last Updated on Saturday, 31 March 2012 14:12
Written by John Bunyan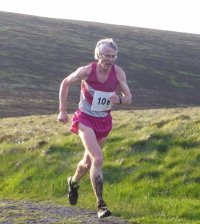 The weather held out and a revised course was used that made it about 1.5 miles longer than normal. A big Harriers turnout, along with a few others "supporting". Andrew Lamont was first Harrier, followed by Mark Hartell and Barry Blyth. Barry took the V50 prize, just beating Raph Murray. Macc also won the team prize.
Full results can be found on the Goyt Valley Race website. Lots of good, bad, ugly photos in the album courtesy of Andy "gatevault" Skelhorn.
The Harriers results have also been extracted in the full version of this article, view it by clicking on the read more link below.
Created on Monday, 22 May 2006 04:30
Last Updated on Saturday, 31 March 2012 14:12
Written by John Bunyan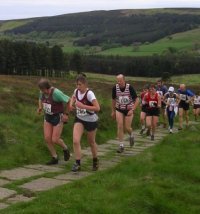 Quote from the organiser....
"A fantastic day with a window in the weather that allowed a very competitive
race. We were privileged to have The Right Honourable Lord Stone to start
the event. The venue proved to be durable and the racing was of the first
order. In each category it came down to the final climb to sort the winners
out. Bingley's Rob Jebb powered up it to win in 53:58 ahead of Pudsey &
Bramley's Rob Hope and Dark Peak's Lloyd Taggart. Top Veteran was Bingley's
Ian Holmes in 4th spot.

In the Women's race Bingley's Natalie White overhauled Matlock's Christine
Howard to win in 64:35, with Calder Valley's Jo Waites taking the 3rd spot.

The men's team prize was secured by Pudsey & Bramley ahead of Dark Peak Fell
Runners with 54 pts while Bingley Harriers were comfortable winners of the
women's team prize with 18 pts ahead of Dark Peak Fell Runners"

Macc results were:
Barry Blyth 85th 66.25
Martin Cortriviend 141 71.56
Dave Kilpatrick 158 74.30
Phil Barnes 206 83.17
Julie Fletcher 240 90.01

The course is 8 miles with 2100 feet of ascent. The good weather and
surface made for quick times. Too much of the first half was stone flagged
for my liking.The second half was mainly
mud track/path with a sting in the tail. The last kilometre involved a 500
ft "go for it" drop off the path through braken to a stream and then a calf
busting 450 ft ascent.
Barry Blyth
Created on Friday, 05 May 2006 12:57
Last Updated on Saturday, 31 March 2012 14:12
Written by John Bunyan
TUESDAY 11th JULY AT 7.15pm
A hilly, multi-terrain race over 9km long in the scenic parish of Swythamley and Heaton. Start and finish is at Swythamley and Heaton Community Centre, Swythamley SK11 0SJ. OS Map ref SJ965 632. Trophies for Open, Ladies, Vets, Local runners and a new Team Prize. Minimum age 16 on 1/1/06. Also a FUN/JUNIOR RUN of about 4 km. Minimum age 12 on 1/1/06.Toilet and change facilities. Entries on the day only. £4 Club, £5 unattached, £2 junior/fun runners.
B-B-Q. Free burgers for all runners. Licensed bar. Bring family and friends. Proceeds in aid of Swythamley and Heaton Community Centre.For further info call Graham Anderson on 01260 226269 or Alan Weeks 01260 227683.
This is a CAT C race run under The Fell Runners Association Rules
Created on Thursday, 11 May 2006 14:13
Last Updated on Saturday, 31 March 2012 14:12
Written by John Bunyan
The Mount Famine fell race, part of the Hayfield race series wasd held on sat 6th May. This relatively short 5ml race incorporates some severe climbs (1000 ft in the first 1.5 mls). The warm sunny weather made for a nice day out, a record entry of (? over 150) but a problem of dehydration for some athletes. Macclesfield Harriers were well represented ...... Barry Blyth was first Harrier home and 1st V55.

| | | | |
| --- | --- | --- | --- |
| 21 | Barry Blyth | M55 | 00:49:29 |
| 31 | Phil Janaway | M40 | 00:51:05 |
| 52 | Craig Harwood | M40 | 00:53:53 |
| 58 | Ewan Douglas | M40 | 00:54:33 |
| 60 | Trevor Longman | M55 | 00:54:42 |
| 95 | Janet Hatton | F40 | 01:00:20 |
| 122 | Damien Mead | M45 | 01:05:30 |
| 124 | Lawrence Day | M | 01:05:42 |
| 126 | Kath Turner | F45 | 01:06:07 |
| 134 | Julie Fletcher | F | 01:07:45 |
Created on Tuesday, 25 April 2006 14:34
Last Updated on Saturday, 31 March 2012 14:12
Written by John Bunyan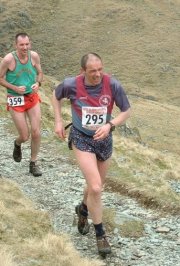 Weather on race day was misty and windy on top of Dale Head - a chill breeze but this didn't deter our intrepid O/55 Barry Blyth from being first Harrier home in 1.56.01. Well done Barry and all other finishers. All results on
FRA website
.
A few piccies in gallery. A few more comments in the forum!